PYO - Prudence Youth Organization
All About the PYO…
The PYO meetings start Wednesday June 28th at 6:30 and occur on Wednesday's during the summer. Stop by and learn about the Prudence Youth Organization and what it has to offer.
We are looking for new PYO members and invite all kids (10+) to join by stopping by one of our meetings. When PYO members turn 18, they age out of the PYO. The PYO provides fun activities, a great social environment, workplace experience, community service and looks great on a college resume!

Tuesday is Game Night. 7pm is kids BINGO and afterwards kids enjoy playing other games outside: kickball, dodge ball, pickle ball or basketball. The snack shack has ice cream sundaes for sale along with floats and drinks until 9pm. Game Night will start on Tuesday, June 27th. All ages are welcome to stop by for a scoop or two with all the toppings.
Wednesday nights bring current hit movies to the island. Movie Night starts at 7 PM with a G/PG movie for all ages. The movie of the week will be posted on our website. This year we are making some changes to our Wednesday Night Movie program, we will be playing only the 7pm G or PG movie. After the movie, there will be an evening activity for teens until 9:30 such as karaoke, dodgeball, scavenger hunt, or basketball, just to name a few ideas. Stop in and check it out. Kids under 10 must be accompanied by an adult to attend PYO events. The snack shack is open during movie night and all the proceeds from the Snack Shack go back to PYO.
The PYO is looking for prize donations, age 5 through 17 for Kids BINGO and for volunteers 18+ to help on Tuesday and Wednesday evenings. If you are interested in donating or volunteering, please contact PYO1018@gmail.com.
The current PIA Board members overseeing the PYO are Kristin Koopman and Meg Bear.
Annual PYO events this year include the Youth Basketball Tournament, the PYO Island Treasure & Craft Fair and the Halloween Potluck Party. The 2023 youth basketball tournament will be held in August, more details to follow. We want to thank all participants from last year and all the families that helped. We are looking forward to another good turnout this year and to watch the island youth grow in their athletic skills.
This year's Island Treasure & Craft fair will be on July 15 from 9am to Noon. We are looking for crafters. The donation per table is $25 for non-members and $20 for members. If you are interested in a table, form can be downloaded or please reach out to us at pyo1018@gmail.com.
The PIA is a great place for kids and families to gather. The basketball/pickleball courts are open to the public until 10pm every day. When at the PIA we need the community's cooperation by respecting our neighbors, being mindful of the noise, keeping the area tidy of trash, and vacating the property by 10pm each evening.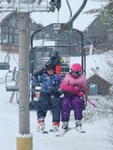 The money raised from the snack shack & craft fair are used for activities such as a summer field trip to Time Mission in Lincoln and a winter weekend to Mt. Cranmore to ski and go tubing. These types of trip helped build relationships and taught the kids some new skills. Lots of fun and laughs were had by all.
We look forward to another fun filled season with PYO at the PIA! Thank you!
Reminder of the RULES when attending PIA and PYO events:
No swearing on PIA grounds. The offender receives one warning. If caught swearing again, he or she will not be allowed back on the PIA property for 1 week.
There is no littering on PIA grounds. At PYO events 1 child will be designated the *Trash Police*. It will be their responsibility to make sure that all of the trash is being placed in the proper receptacles. Anyone refusing to use the trash can or giving the trash officer a hard time will be asked to leave for the remainder of the event. Also, there will no longer be any gum sold at the snack shack. It was found repeatedly on the basketball court and cement patio outside the hall.
No one under the age of 16 will be allowed on PIA property past 10 o'clock (unless there is a PIA function taking place or they have adult supervision).
Stay off the roof. This won't be tolerated. Anyone found on the roof will be charged with trespassing.