Message from the President
Spring 2019
Welcome to spring!! Winter here on the island was not too bad this year, I'd consider it a mild winter. However this spring has been one of the wettest ones I can remember, I feel like I'm living in Seattle. There are puddles where I've never seen them before.
During the past off season the PIA Board has been busy picking away at our to do list and focusing on those jobs that keep going to the bottom of the list. Our office and store room have been collecting items for many years and organizing both rooms was long overdue. They have now been completely cleaned, emptied, painted and reorganized.  Another overdue task was to update our mailing list, we now have combined our old list with the Portsmouth tax list and added on those new members who have reached out to us. When mailing in your dues we ask you to please fill in your off island mailing address or if you are full time resident to fill in your PO Box #. We don't want to miss anyone but if the newsletter gets returned because of the wrong address we will have to remove it from our list.
Our biggest task for this upcoming season was figuring out how to celebrate our 100th anniversary and this is what we have come up with. This year we will not be holding the chowder & stuffie cookoff and instead we will be celebrating and paying respect to all our many volunteers past and present who have helped keep the organization going. How are we going to do that you ask?
The 100th Anniversary Celebration will take place on Saturday July 13th, starting at 7PM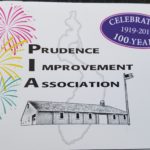 7 PM: Welcome all to the PIA for appetizers and to socialize with friends and neighbors, old and new.
7:30 PM: Enjoy a 30 minute history presentation on the PIA by Joe Bains.
8:00 PM:  Ceremony and presentation of commemorative gifts to all the past and present board members.
9:00 PM: Ocean State Pyrotechnics will be putting on a 28 minute firework show from a barge in front of the PIA.
9:30 PM to midnight: DJ Tom Lima will be playing music so we can dance the night away.
This event is free for all so BYOB, and you may also want to bring a chair to watch the fireworks from the front lawn.
Hope to see everyone there! – Patricia Rossi