The PIA is host to many activities throughout the summer which welcome children, teens and adults young and old. Every weekday evening during the summer season the PIA doors are open for events including Movie Nights, Make your own Sundaes, Arts & Crafts, Paint Nights and of course Friday Night Bingo. The PIA provides opportunities to shop from island vendors or to rent a table and setup your own goods for sale at the large Annual Craft Fair or Island Pop-Up Market on select Saturday mornings. Summer weekend events include the Chowder Cook-Off and the Members Only Summer Cruise. The PIA stays open through early fall and Bingo Blast, the Halloween Pot-luck and the Game Dinner are great events to say goodbye to the summer season. The PIA building is also host to other important island events including the Ham and Bean Supper and Fireman's Fair.
Supported by the PIA, Prudence Youth Organization (PYO) is open to the children of families with memberships. The PYO also holds meetings and events providing many opportunities for children (starting age 10) and teens on the island to relax and play but also work together and plan as part of an organization. Members of the PYO can work at the Snack Shack and serve on the PYO board; members who work enough hours are eligible to travel on PYO sponsored trips.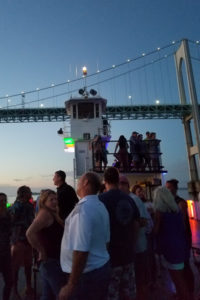 Individual memberships are $15 and family memberships are $25. This year for each membership we will send you a 2018 Tide Chart. Renew your membership early and you will be eligible to attend the Summer Members Only Cruise towards Newport. In addition to the countless benefits of being a PIA member your support goes a long way. The organization depends on the annual dues from members to fund maintenance and improvements for the building and properties. This year we hope to fix the gutters on the roof and repair the walkway and railings from Narragansett Ave down to Marcy's store. All members are invited to join us at our annual meeting; your membership gives you a vote and you can help us with making decisions regarding our organization, building and fundraisers.
If you are one of the PIA's loyal members, we appreciate you and thank you for your continued support. If you have not yet joined, please consider joining and being a part of our island community. We have a lot of fun! See the table below for a list of this year's member benefits.
MEMBERS
NON-MEMBERS
JOIN THE PIA
$15 – Individual Membership
$25 – Family Membership
Free Tide Chart with Membership
BINGO!
Friday 8:15 pm, June 1-September 14
$15 to play all 7 games
$18 to play all 7 games (includes $3 for one-day membership)
ISLAND POP-UP MARKET
Occasional Saturday Mornings 9:30-11:30
July-August
VENDORS
Free
VENDORS
$10
SUMMER SOLSTICE MEMBER ONLY CRUISE
August 4 from 7pm-10pm
Cruise around the island; space is limited
$25/member
Light dinner
BYOB
Not eligible
PYO CRAFT FAIR
July 21 9 am-Noon
VENDORS
$20/table
VENDORS
$25/table
PYO Officers and Snack Shack Workers
Family Membership required
Not eligible
HALL RENTAL
Members Only
Not eligible